June 22,2008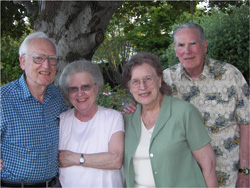 Friends and family of Laurel and Terry Dearborn and Elaine and Fred Franklin gathered together to honor and celebrate the marking of each couples 50th wedding anniversary. The event was held at the Menlo Circus Club in Atherton, CA.
The evening began at 5PM with an assortment of hors d'oeuvres and beverages allowing family and friends time to visit and reminisce looking at family photo albums and genealogy charts. A delicious buffet style dinner was served followed by a time of open mic sharing as people finished their meal. Following our meal we had a time of entertainment in song provided by the Jeweltones, a musical group of ten women who took us back in time musically with a customized selection of songs from the fifties.
We all got a chance to take a pictorial journey back over the past 50+ years by way of 2 slide show presentations. The final event of the evening was a reenactment of the cake cutting (including the original cake toppers from each wedding). People continued to share stories and memories over desert for the remainder of the evening. Many thanks to all those who played a part in putting this all together. A special thanks to Danielle Dearborn who was the chief organizer.
I have posted some photos of the event as well as both slide show presentations, for those unable to attend. I also have posted some pictures from the family gathering held Saturday at John and Danielle's home.